BANKRUPTCY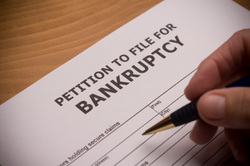 Are you unable to pay your bills? Are you behind in your mortgage payments? Do you own a business that is in trouble?
If so,
RUDDY, KING & PETERSEN LAW GROUP, LLC
has the experience and knowledge to handle your case.
Our office represents debtors and creditors in bankruptcy and guides them through the complex issues of bankruptcy. Whether representing a debtor in a bankruptcy or representing a creditor in a bankruptcy, we work hard to ensure that our clients are fully informed about the bankruptcy process. We have years of experience in personal and business bankruptcies as well as representation of creditors in bankruptcy.
Click below for more information on Bankruptcy:
​
Contact our office
today for a consultation so that we may assess your situation and give you the proper avenues to alleviate the financial stress in your life. This includes all available bankruptcy options as well as non-bankruptcy options.