INDIVIDUAL BANKRUPTCY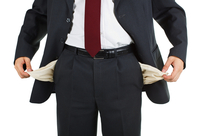 Are you struggling with your monthly payments to credit card companies, medical companies, or your mortgage? Bankruptcy may be a great benefit for you.
Our office represents debtors in Chapters 7, 11, 12, and 13 under the bankruptcy code. We keep you informed about the process and assist you with the issues that may arise during this most stressful time. Bankruptcy's purpose is to give you a fresh start, to get you out from underneath the debt you have incurred and allow you to live again.
We understand that you are not in this position because you want to be here. You did not intend to get into trouble with credit cards or to fall behind on your mortgage. Whether it was a lost job, a work-related injury, an illness, or any of the other myriad of possible reasons you are where you are today, we understand your situation and are here to protect your rights with respect to the bankruptcy process.
Contact our office
today for a consultation so that we may assess your situation and give you the proper avenues to alleviate the financial stress in your life. This includes all available bankruptcy options as well as non-bankruptcy options.
---
The Bankruptcy Process
Bankruptcy stops collection actions against you by any means including court actions, letters, phone calls, etc. It can stop most wage garnishments and lawsuits.

What is involved in the bankruptcy process? Can you keep your cars, home, etc.? These are just a few of the questions that are important to you in your bankruptcy case. Below is a brief description of the bankruptcy process.

In all bankruptcy cases, a debtor (person who owes money – you) must disclose all his/her assets, debts, income, and expenses. We must also look at your income for the past six months and other information relevant to your financial situation.

You must provide the following information to our office:
Copies of income tax returns for the last four years.
Copies of all paystubs, including unemployment compensation, social security payments, or any other income, your household has received in the last 6 months.
Copy of a credit report that has been run in the last 60 days. A free credit report can be obtained from the website: www.annualcreditreport.com.
Copies of any bills received in last 60 days (do not include utility bills, insurance, etc. if you are current with these bills).
Copies of any documents evidencing any ownership in any real estate, including real estate tax bills.
Copies of any documents evidencing any ownership in any automobiles.
Copies of any documents evidencing any loans secured by real estate, automobiles, or any other property.
Copies of any documents evidencing any other loans.
If any transfer(s) of any property have occurred in the last 4 years, any documents relating to the transfer(s).
Certificate stating debtor(s) have completed required credit counseling within 180 days prior to filing - may be obtained from many different agencies, including the following: CC Advising, Access Counseling, or Urgent Credit Counseling.
In all cases, you will sit down with one of our bankruptcy attorneys,
John Ruddy
or
Lincoln King
, and go through this information to determine what is best for you given your situation. We will discuss your assets and whether you can keep your assets (house, car, etc.). We will discuss your debts and whether those debts must be paid. Your income and expenses will be evaluated as well.
We will complete the required bankruptcy forms and file them with the bankruptcy court. Approximately one month after we file, you will have a meeting with your Trustee where one of the attorneys from our office will assist you in the meeting. We will explain to you what to expect in your specific situation at this meeting.
After the filing of your case, you must complete a second class called debtor education or personal financial management. We will provide you with information regarding these courses, but some providers include:
A123 Credit Counselors
,
Access Counseling
,
Be Adviser
, or
Solid Start Financial Services
. You must complete this course to receive a discharge in your case.